An ancient bra with a fashionable twist
The Angiya is a much more modern interpretation of a garment worn by women in ancient India, the mention of which is found in Kalidasa's Shakuntala & Meghadoot (pre 5th century CE).
It was my great-grandmother, Sukma Devi's Angi that I chanced upon as a young girl that lead me to redesign it for modern times.
Exquisitely handcrafted in a variety of styles and for all occasions we source only organic and natural artisan fabrics from muslin, malmal, kala cotton, linen, velvet silks & brocade.
Our underwire is constructed organically and the straps are custom made.
Angiya is heirloom couture. It is timeless!
Size chart in menu. Whatsapp us for more.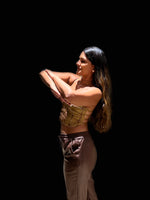 -----
Store Address: Studio Angiya, Shop # 248, 2nd Floor, Mega Mall, Gurugram, HR 122002
Shop Timings: 11AM TO 7PM Mon-Sat
Contact: theindianbra@gmail.com